In conversation with
Lou Wiss
A faithful contributor and user of UVI products, Lou Wiss stands out as a multifaceted artist, sometimes music composer, sound engineer and video maker, but first of all as a passionate of world-music and instruments. The release of
Quadra Traveler
is an opportunity to look back on his collaborations with UVI, and see how our products fit in his creative process.
Can you introduce yourself and let us know your background?
I'm a music composer, sound designer and multi-instrumentalist. I started playing drums and guitar and then started to collect and play instruments from all around the world. Fascinated by all kinds of music, I dived deep in music production by composing, recording, editing and mixing a lot of different audio material. I also started to produce original music videos that I share on my YouTube channel called Lou Wiss.
What is your music creative process like? What role does software play in your workflow?
My creation process always starts by looking for new ideas, as I always have an eye out for things I haven't experienced. I love to think outside the box and to experiment with a lot of different instruments and objects, taking time to edit and mix the audio I captured. Of course I also like to use virtual instruments to create quickly, be able to layer sounds I recorded previously, and to have more colors in my sonic palette while writing new pieces of music.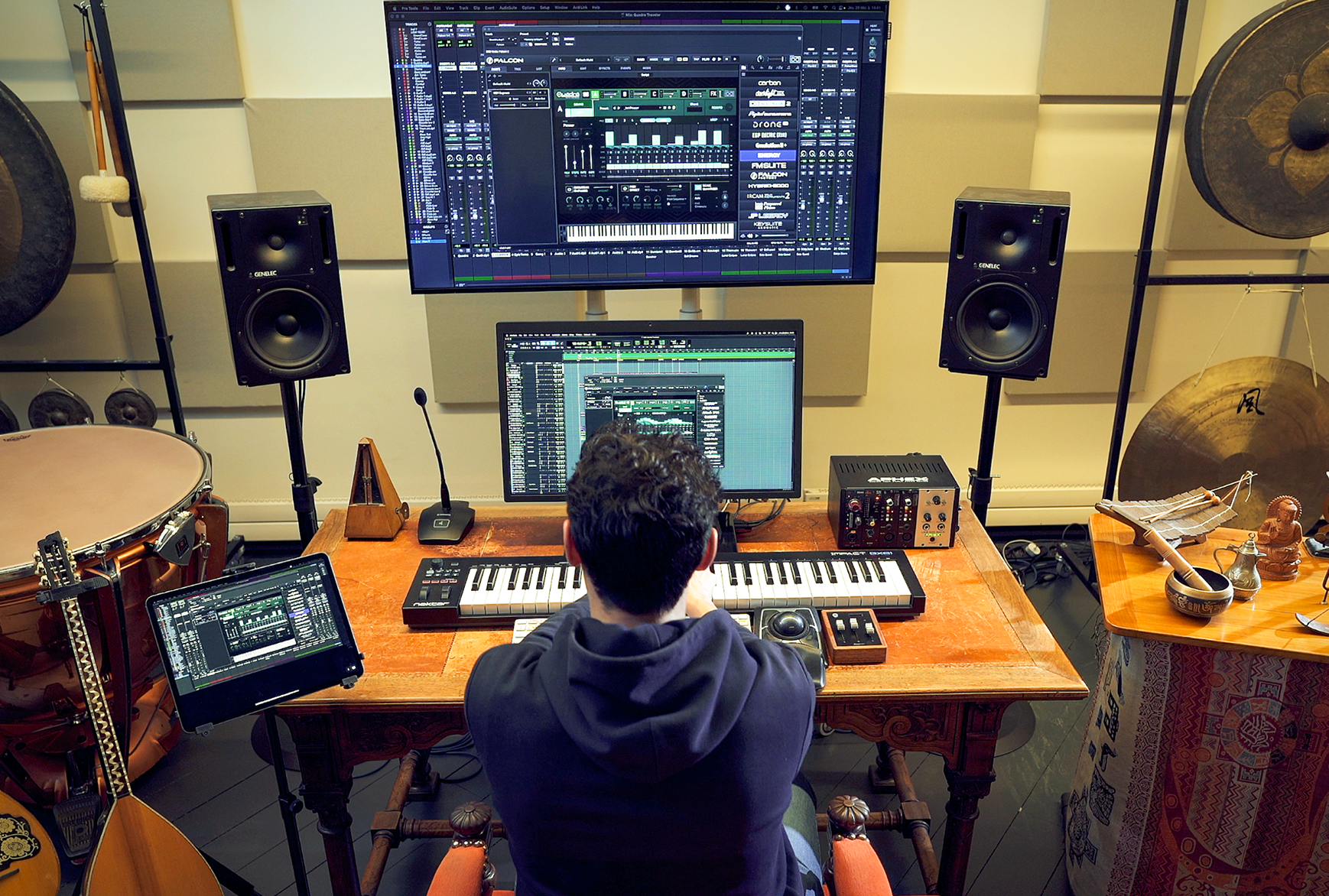 What are your favorite UVI products, and how do you like to use them?
My favorite UVI product is the Attack EP88. It is the virtual instrument that gives me the most feeling of having a real instrument under my fingers. It has for me all the details, perfection, imperfection and sound quality that made me think that UVI is one of the best audio tech companies in the world. I also love Falcon for its ability to make incredible sounds that could be very hard or impossible to do outside the box, and how you can manipulate your own audio samples with it. A very modern and inspiring tool!
We know you are a power-user of the Quadra series, what do you like most about them? And would you have some tips for the new users?
What I love about Quadra is how it brings the in & out of the box approach. You can play some individual acoustic sounds with ease, or create some complex layered, arpeggiated and processed sound with it. It can be a real time-saver and I can't think of any virtual instrument that can do this with this level of versatility.
You've worked with our team on the first Quadra, what was the biggest challenge?
It was an honor for me to be part of the development of Quadra Muted and Harmonics ! So cool to have sampled part of my instrument collection in this product. There were many challenges during the conception of the sound library of Quadra. I had to be patient, quieter than ever and very focused while keeping all the instruments in tune! As a creative mind, the hardest part for me was to wait for the process to be done so I could enjoy playing with the thousands of samples I recorded!